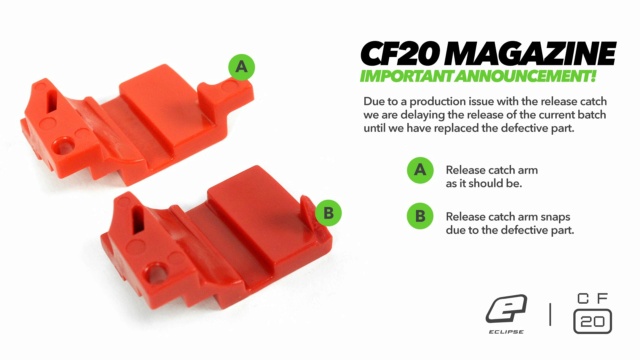 CF20 Magazine Announcement
After 18 months of design, testing and even more testing we finally released the first production batch of our CF20 Magazines into the wild this past weekend, with the UK being the first market to use them in anger.
Unfortunately, we have been made aware of an issue that resulted in the failure of a single part within the magazine for one customer. To some, the news of a single failure wouldn't be an issue, you just send them a replacement part. But for us, any failure is a big deal. We design and manufacture our products to work as they should, to stay the course, and to be the very best on the market because ultimately WE also want to use these products. If a product fails our customers, we believe we fail as a brand.
R&D have been analysing the part in question and have identified the problem. We are currently arranging a replacement part to be manufactured, which will be replaced in all retail units as quickly as physically possible.
We apologise for the delay on this product and will try our very best to get this product in your hands as soon as we possibly can.
We know what it's like to be excited about a kick-ass product only for it to be delayed, so for this we can only apologise.
If you have already received your CF20 Mags then please contact the store you purchased them from for more information.
Thanks again for your loyalty and patience as always, we truly appreciate it.
-----------------
Annonce du magazine CF20
Après 18 mois de conception, de tests et encore plus de tests, nous avons finalement sorti le premier lot de production de nos magazines CF20 dans la nature ce week-end dernier, le Royaume-Uni étant le premier marché à les utiliser avec colère.
Malheureusement, nous avons été mis au courant d'un problème qui a entraîné l'échec d'une seule pièce du magazine pour un client.
Pour certains, la nouvelle d'un seul échec ne serait pas un problème, il vous suffit de leur envoyer une pièce de rechange.
Mais pour nous, tout échec est un gros problème.
Nous concevons et fabriquons nos produits pour qu'ils fonctionnent comme il se doit, pour garder le cap et pour être les meilleurs du marché, car en fin de compte, NOUS voulons également utiliser ces produits.
Si un produit échoue à nos clients, nous pensons que nous échouons en tant que marque.
Le service Recherche & Développement a analysée la pièce en question et identifié le problème.
Nous préparons actuellement une pièce de rechange à fabriquer, qui sera remplacée dans toutes les unités de vente au détail aussi rapidement que possible physiquement.
Nous nous excusons pour le retard sur ce produit et ferons de notre mieux pour que ce produit soit entre vos mains dès que possible.
Nous savons ce que c'est que d'être enthousiasmé par un produit génial uniquement pour qu'il soit retardé, donc pour cela, nous ne pouvons que nous excuser.
Si vous avez déjà reçu vos CF20 Mags, veuillez contacter le magasin dans lequel vous les avez achetés pour plus d'informations.
Merci encore pour votre fidélité et votre patience, comme toujours, nous l'apprécions vraiment.
Traduction: SOP Staff.
---
Permission de ce forum:
Vous
ne pouvez pas
répondre aux sujets dans ce forum