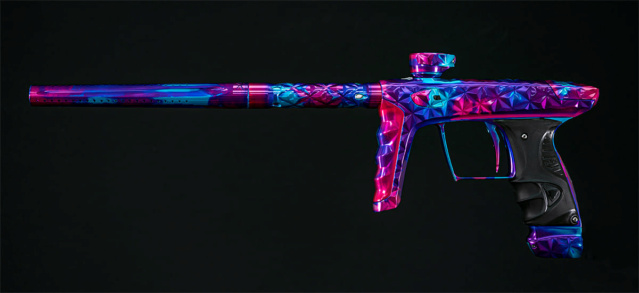 We are VERY proud to announce the Adrenaline Luxe based on the Next Generation Luxe platform (not Luxe X)
I encourage you to watch the full show to learn more (on our videos page or our YouTube channel).
Quick overview:
Almost 15 months in the making....
-Comes standard in electronic and mechanical frames (with timer)
-Both frames include matching new version ASAs
-5-axis Tryamid full body design (including barrel)
-Stainless Freak XL insert
-Balance/weight changes
-Adrenaline F-16 Bolt System
- Tungsten Disulfide (WS2) on bolt and can both
-Revised airflow for improved results with brittle paint
- Increased air chamber throughout
-Roughly 1/3rd operating pressure (around 100psi)
- Mechanical frame includes Adrenaline timer (by Garmin)
- Cannot short stroke and no chops in testing
- Tool-free conversion to mech/electro in seconds
- Revised grip ergonomics with water resistance
- Wireless charging option ready
- Adrenaline voices including our Signature Series players and optional main voice of Danny Manning (voice of Traumahead)
So much more details at cup and in the future
Note because it is not based on an X most parts are not compatible with the X but we will be offering our F-16 bolt and can in WS2 for the X crowd
DLX Technologies
Blizzard Anodizing
----------------------
Nous sommes TRÈS fiers d'annoncer le lanceur Adrenaline Luxe basé sur la plate-forme Next Génération Luxe (pas Luxe X).
Je vous encourage à regarder l'émission complète pour en savoir plus (sur notre page vidéos ou notre chaîne YouTube).
Rapide vue d'ensemble:
Près de 15 mois de préparation ...
- Livré en standard dans les poignées électroniques et mécaniques (avec minuterie).
- Les deux poignées incluent la nouvelle version ASA correspondante.
- Conception du corps complet Tryamid à 5 axes (y compris le canon).
- Insert Freak XL en acier inoxydable.
- Changements d'équilibre / poids.
- Système de culasse adrénaline F-16.
- Disulfure de tungstène (WS2) sur la culasse.
- Circulation d'air révisée pour de meilleurs résultats avec une peinture fragile.
- Augmentation de la chambre interne.
- Environ 1/3 de la pression de fonctionnement (environ 100 psi).
- La poignée mécanique comprend une minuterie d'adrénaline (par Garmin).
- Réduction de problème de régularité lors des tests.
- Démontage sans outil de méca en électro en quelques secondes.
- Ergonomie révisée de la poignée étanche.
- Option de chargement sans fil prête.
- Voix d'adrénaline, y compris nos joueurs de la série Signature et voix principale optionnelle de Danny Manning (voix de Traumahead)
- D'autres informations seront disponibles lors de la coupe du monde NXL.
Remarque car il n'est pas basé sur un X la plupart des pièces ne sont pas compatibles avec le X mais nous proposerons notre système de culasse F-16 et notre boîte en WS2 pour les utilisateurs de X.
Technologies DLX
Anodisation Blizzard
traduction: SOP Staff
---
Permission de ce forum:
Vous
ne pouvez pas
répondre aux sujets dans ce forum