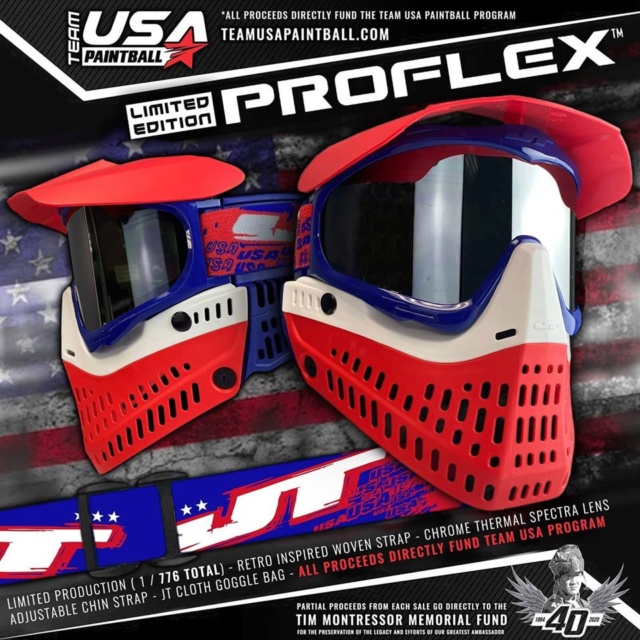 JT Paintball
· 11 h ·
We are proud to present the Team USA "Old Glory" Edition JT Proflex Goggle System, a collaborative effort with JT USA in Support of the Team USA Paintball Program. Proceeds from each sale go directly to America's quest for gold against the world's best!
With the JT collector in mind, this goggle features never before produced color options (for you part-swappers out there) as well as a retro-inspired (and highly-desirable) WOVEN GOGGLE Strap. This limited edition goggle will be capped at 776 total goggles, never to be reproduced, once they are gone they will be gone for good.
$5 from the purchase of each goggle will go directly to the Tim Montressor Memorial Fund (https://www.gofundme.com/f/tim-montressor-memorial-fund) to provide a permanent monument to the tireless efforts that allowed Team USA to be a reality today.
Get yours today... https://teamusapaintball.myshopify.com/products/jt-proflex-team-usa-edition
-----------------
Nous sommes fiers de vous présenter l'équipe USA ′′ Vieilles Gloires ′′ édition JT Proflex Goggle System, un effort de collaboration avec JT USA en soutien au programme de paintball Team USA.
Les produits de chaque vente vont directement à la quête de la médaille d'or de l'Amérique contre le meilleur du monde !
Dans l'esprit du collectionneur JT, ce masque n'a jamais été produit en options de couleur (pour vous les échangeurs de pièces) ainsi qu'un bandeau de masque GOGGLE rétro-inspirée (et hautement souhaitable).
Ce masque en édition limitée sera plafonnée à 776 exemplaires au total, à ne jamais reproduire, une fois qu'elles seront parties pour de bon.
Un montant de 55 $ de l'achat de chaque masque ira directement au Tim Montressor Memorial Fund (https://www.gofundme.com/f/tim-montressor-memorial-fund) pour fournir un monument permanent aux efforts infatigables qui ont permis à Team USA de devenir réalité aujourd'hui.
Obtenez le vôtre aujourd'hui... https://teamusapaintball.myshopify.com/products/jt-proflex-team-usa-edition
Traduction: SOP Staff
---
Permission de ce forum:
Vous
ne pouvez pas
répondre aux sujets dans ce forum