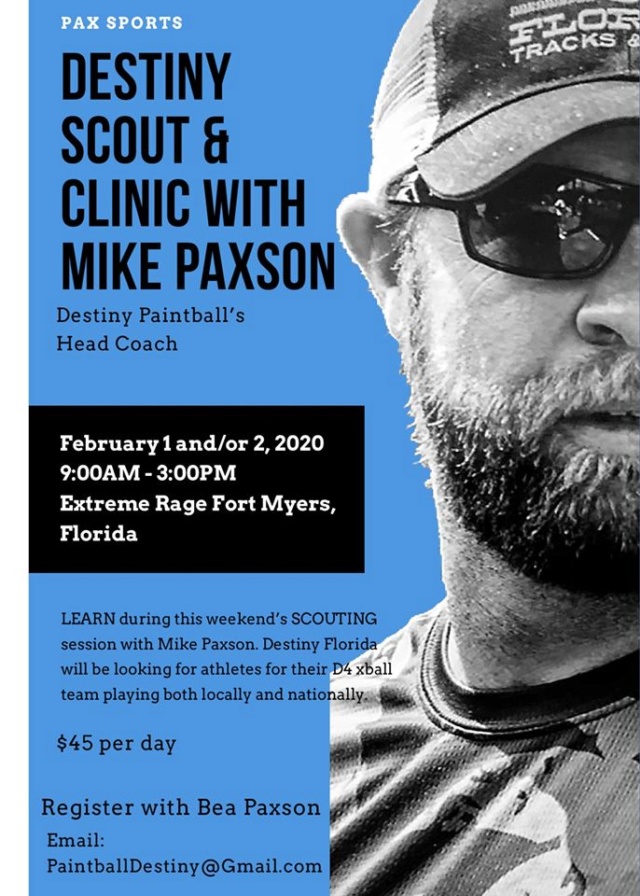 Mike's back. Coaching xball again, just like he did when he coached Las Vegas LTZ, and when Destiny played World Cup 2012 as "Destiny X" when we collaborated with Team Xclusive.
It takes place the weekend before the MVPS event, so if you want to walk the fields with the Master, on top of getting good advice and productive drills and scrimmages in preparation for that weekend, this is the weekend for you and your team.
This is also a Scouting Session for any Destiny team looking for new players for their respective Destiny lines. Destiny Florida will be competing as a D4 xball team both locally and nationally, so if you're a Floridian Paintballer, looking for a squad, this is the weekend for you.
It's just $45 prepaid per day for Mike's time! Or $80 for both days, from 9am to 3pm daily, February 1 and February 2.
Pay Extreme Rage Paintball their usual entry fee and buy their paint, too. They'll be letting us work in with their regulars and Mike will make best use of your time.
So come one, come all -
February 1 and or 2
9am to 3pm both days
$45 for each day if you choose to come only for a day
$80 for both days
Prepayment accepted via Paypal.
Contact me, Bea Paxson, to register and indicate which day or both.
Stay tuned and register at DestinyPaintball.com
#MikesBack #CoachPaxson #PaxSports #DestinyPaintball #DestinyFlorida #DestinyXball #PaintballTryouts #PaintballSchool #PaintballCamp #ProPaintballClinic
---
Permission de ce forum:
Vous
ne pouvez pas
répondre aux sujets dans ce forum