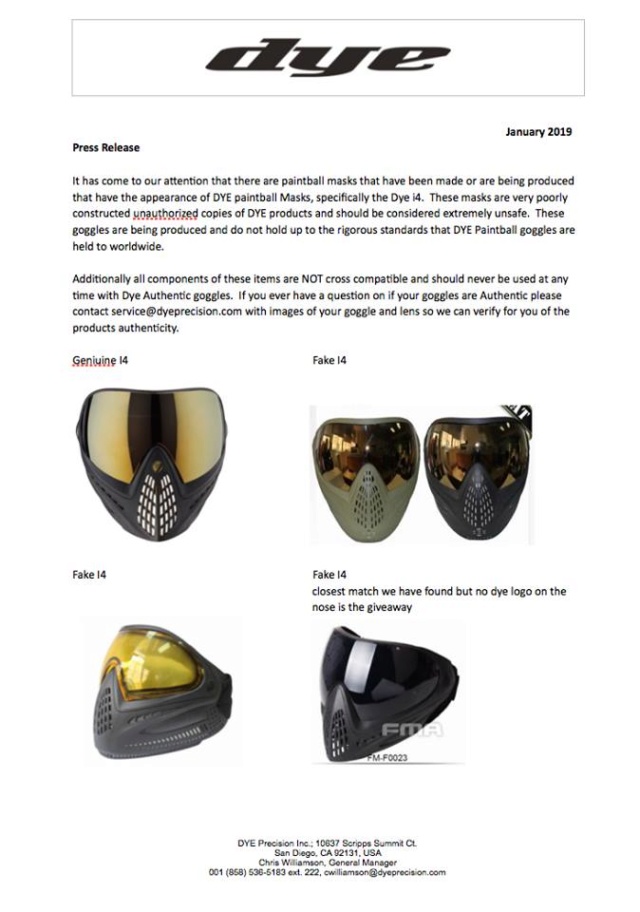 It has been brought to the attention of the UKPSF that there may be substandard, imitation Paintball masks being sold and some of these mask are not safe / fit for purpose. The mask that was initially brought to our attention looks very similar to the Dye i4 mask so we contacted Dye to see if they knew about these masks and for any comment and guidance on this very serious matter. attached is a statement from DYE Paintball.
Combat Zone Paintball - Lincoln posted a video of them testing a mask that a customer arrived on site with to play that day, following a visual inspection by a member of staff they were not happy with the mask so gave it a test. The results are shocking.
https://www.facebook.com/CombatZonePain…/…/2254798644797894/
This is a very serious matter and could not only tarnish the very good safety record of Paintball in general but more importantly it could lead to a very series injuries, blindness or worse.
As players you can help protect your sport. Every time you're playing alongside others, if you see goggle systems that you think may be fake you should bring this to the attention of the venue and the player.
As a Paintball Park operator that permits customers to use their own goggle systems we advise all goggle systems are inspected by a senior member of your staff to confirm they are fit for purpose.
If you are looking to buy a Paintball mask the UKPSF recommends that you buy one form one of the UK Reputable retailers who will be able to advice you of the best Paintball mask to suit your needs and that the mask will be safe for use.
If it seems too cheap it probably is!
---------------------------
L'UKPSF (Fédération Anglaise de Paintball) a été informée que des contrefaçons de masques de paintball de qualité médiocre, pourraient être vendus et que certains de ces masques ne sont pas sûrs ou ne conviennent pas.
Le masque qui avait été porté à notre connaissance ressemblait beaucoup au masque Dye i4.
Nous avons donc contacté Dye pour savoir s'ils étaient au courant de ces masques, ainsi que pour tout commentaire ou toute orientation concernant ce sujet très grave. Ci-joint une déclaration de DYE Paintball.
Combat Zone Paintball - Lincoln a posté une vidéo montrant qu'ils testaient un masque qu'un client était arrivé sur place ce jour-là.
Suite à l'inspection visuelle d'un membre du personnel, ils n'étaient pas satisfaits du masque.
Ils l'ont donc testé. Les résultats sont choquants.
https://www.facebook.com/CombatZonePain…/…/2254798644797894/
C'est un problème très grave qui pourrait non seulement ternir la réputation de sécurité du Paintball en général, mais qui pourrait conduire à une série de blessures, de cécité ou d'aggravation.
En tant que joueurs, vous pouvez aider à protéger votre sport.
Chaque fois que vous jouez aux côtés d'autres joueurs, si vous voyez des masques de paintball qui, à votre avis, pourraient être des faux, vous devriez le signaler à l'attention du lieu et du joueur.
En tant qu'exploitant de Paintball Park qui permet aux clients d'utiliser leurs propres masques de paintball, nous vous conseillons d'inspecter tous ces msques de paintball par un membre senior de votre personnel pour vous assurer de leur conformité.
Si vous souhaitez acheter un masque de paintball, l'UKPSF vous recommande d'acheter l'un des détaillants réputés au Royaume-Uni, qui saura vous conseiller sur le meilleur masque de paintball adapté à vos besoins et garantissant son utilisation en toute sécurité.
Si cela semble trop bon marché, c'est probablement le cas!
Source: Facebook: UKPSF
---
Permission de ce forum:
Vous
ne pouvez pas
répondre aux sujets dans ce forum