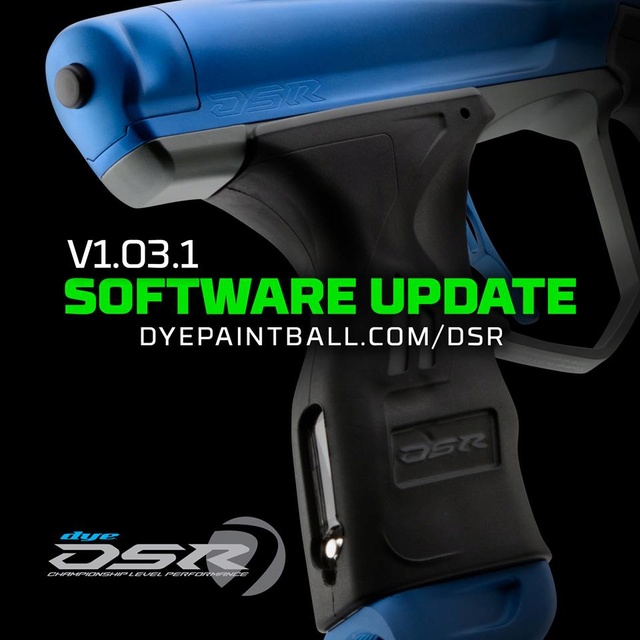 Software Update !
Always evolving. The next update to the #DYEM3s & #DYEDSR software is here!
-
Updates include improved NXLpaintball Ramp for 2018, along with bug fixes in Training Mode, Playing Mode, and power off function.
-
Directions: Before downloading the updated file, please be sure nothing is stored in the USB drive and reformat the drive to be certain that there are no bugs or viruses. We recommend Firefox or Google Chrome to ensure the file gets downloaded properly. Move the firmware to the USB drive. Plug the update cable and USB into the marker, once the cable is attached, power on the marker. Upload onto your marker; once the process has started, don't remove the USB or battery. For best results, reset your marker back to default to erase any of the old files that may still be installed in the circuit board.
-
Quick, easy and back onto the field!
-----------------------
Mise à jour logicielle !
Évolution constante. La prochaine mise à jour du logiciel # DYEM3s & #DYEDSR est là!
-
Les mises à jour incluent une amélioration du mode Ramp NXLpaintball pour 2018, ainsi que des corrections de bugs dans le mode Entraînement, le mode de jeu et la fonction de mise hors tension.
-
Instructions: Avant de télécharger le fichier de mise à jour, assurez-vous que rien n'est stocké dans le lecteur USB et reformatez le lecteur pour être sûr qu'il n'y a pas de bugs ou de virus.
Nous recommandons Firefox ou Google Chrome pour s'assurer que le fichier est téléchargé correctement.
Déplacez le firmware sur le lecteur USB.
Branchez le câble de mise à jour et USB dans le marqueur, une fois le câble est connecté, mettez le marqueur sous tension.
Téléchargez le sur votre marqueur; Une fois le processus démarré, ne retirez pas l'USB ou la batterie.
Pour de meilleurs résultats, réinitialisez votre marqueur par défaut pour effacer tous les anciens fichiers qui peuvent encore être installés sur la carte de circuit imprimé.
-
Rapide, facile et de retour sur le terrain!
---
Permission de ce forum:
Vous
ne pouvez pas
répondre aux sujets dans ce forum