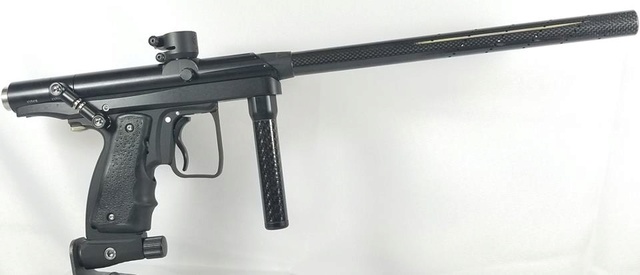 The last post was a Classic RT Pro now we go totally custom. The "N.A.I.L. Gun"...LOL! This has the Nummech Gas thru gripframe. AGD X-Valve and body, Inceptions Feedneck, Lukes Customs RTP Teth IV rail for AGD and Luke's CF vertical Foregrip. Almost forgot! Can't be done without CCM Fittings. You'll need one long post and one short post. Makes a pretty nice combination! Lightweight and very sleek. I haven't figured out the grips....What grips fit well? Help me out with that. The 45 wraps I have on there do not cover completely.
---------------------
Le dernier post était un classique RT Pro maintenant nous avons totalement personnalisé. Le "N.A.I.L. Gun" ... LOL!
Cela a la poignée Nummech Gas thru. AGD X-Valve et corps, Inceptions Feedneck, Lukes Custom RTP Teth IV rail pour AGD et Foregrip verticale CF de Luke. La liaison bloc en raccords CCM.
Vous aurez besoin d'un long message et d'un post court. Faite  d'une jolie combinaison! Léger et très élégant.
Je n'ai pas compris les poignées ... Quelles plaquettes vont bien? Aidez-moi avec ça. Les plaquettes de poignée 45 que j'ai dessus ne couvrent pas complètement la poignée.
Source: AGD
---
Permission de ce forum:
Vous
ne pouvez pas
répondre aux sujets dans ce forum