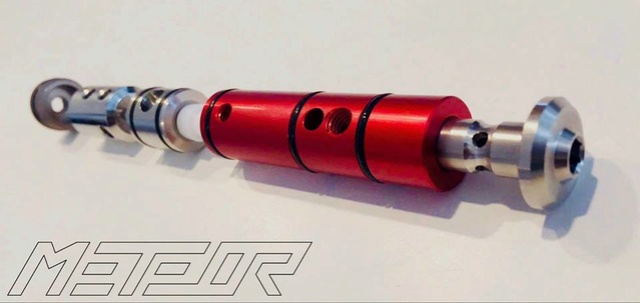 Still curious how our lower tube works in our new guns? Here is a look into our METEOR Red Chamber
and a few of the benefits to the design that may not be noticeable at first.
The METEOR Red Chamber
is a modular piece that has acts as a valve spring perch, extends and strengthens the front grip frame mount threads through the use of our longer screw, and secures a commonly found 99 spec front block screw all in one.
The entire lower tube is sealed by just 5 #15 o rings commonly known as "tank o rings" for simplicity and ease of maintenance. No more valve tools and no more stripped jam nut threads.
Additionally in years past if you stripped out the front grip frame or vasa threads on your autococker body, typically your only options were to heli-coil or go to a larger diameter thread. With the Red Chamber you would simply just replace it..because the body isteslf is not threaded....only the chamber
----------------------------
Toujours curieux de savoir comment notre tube inférieur fonctionne dans nos nouveaux lanceurs ?
Voici un aperçu de notre METEOR Red Chamber
et quelques-uns des avantages de la conception qui peuvent ne pas être perceptibles au début.
La METEOR Red Chamber
est une pièce modulaire qui agit comme un ressort de soupape, prolonge et renforce les filetages de la poignée à l'aide de notre vis plus longue, et fixe une vis de bloc avant du modèle 99 commune en une seule.
Le tube inférieur entier est scellé par seulement 5 anneaux de diamètre #15, communément appelés «joints toriques de valve» pour la simplicité et la facilité d'entretien.
Plus d'outils de démontage de la valve et plus de filetage d'écrou de blocage.
De plus, au cours des dernières années, si vous avez retiré le bloc de la poignée avant ou l'adaptateur asa vertical sur votre corps d'Autococker, vos seules options étaient l'héli-coil ou d'avoir un plus grand diamètre.
Avec la Chambre Rouge, vous pourriez tout simplement le remplacer, parce que le corps n'est pas fileté, seulement la chambre
Traduction: SOP Staff
---
Permission de ce forum:
Vous
ne pouvez pas
répondre aux sujets dans ce forum