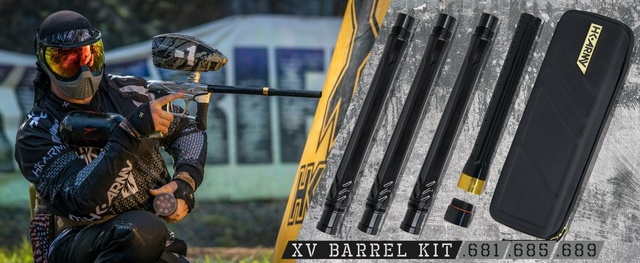 PRODUCT OVERVIEW
Crafted with accuracy and style in mind, the XV Barrel Kit delivers unrivaled performance.
The precision barrel bore-honing used in the development of the XV allows for improved diameter uniformity and a smooth interior finish.
This attention to surface detail will deliver you the ball-on-ball accuracy you are looking for in a high-end barrel system.
The XV Barrel Kit comes complete with 3 Barrel Backs, a Barrel Tip and 2 Interchangeable Accent Rings.
The XV is packaged in our custom HK Army Hard Shell Exo Barrel Case.
Details
Highest Quality Aluminum 2 Piece Barrel
EXO Hard Zipper Case Which Holds Accent Ring, 3 Barrel Backs, Barrel Tip
3 Barrel Backs In Bore Sizes .689, .685, .681
Removable Black Accent Ring and Gold Accent Ring
15" Total Length
9" Barrel Back
6" Barrel Tip
Milled Bore Size Numbers On Back Of Barrel
Precision Honed Barrel Tip and Barrel Backs
Weighs 116.5 grams
Autococker Threading. The barrel also works on the Axe, Shocker, Planet Eclipse Markers, Dye Markers, VCOM, Mac Dev Markers, Field One and Vanquish
Source: HK Army
-------------------------
Kit canon, format pas de vis Autococker, en aluminium, comprenant trois embases calibrées (.681 / .685 / .689) et un embout de 15",
le tout livré dans une sacoche à zip.
Anneaux couleurs Or ou noir
Taille de l'embase de 9".
Taille de l'embout de 6".
Inscription de la taille de diamètre au bout de l'embase.
Traduction: Sop Staff
---
Permission de ce forum:
Vous
ne pouvez pas
répondre aux sujets dans ce forum