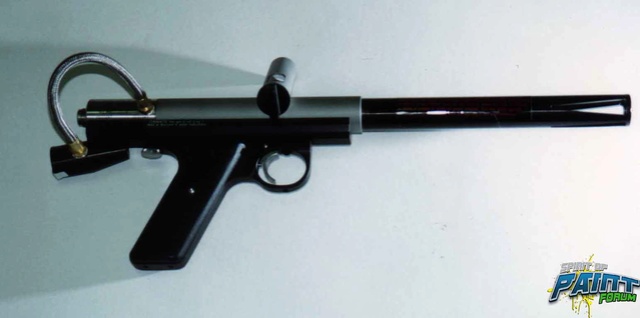 Le 68Automag a été le résultat de 3 années de développement et une première version appelée Panther P1 a canon fixe a vue le jour et a été présentée à un tournoi US à Poconos.
C'était le premier lanceur Blowback en avance sur son temps.
Il souffrait de problèmes internes du à des problèmes de joints à cause de la phase liquide du Co² et une 2ième version Panther P2 à canons interchangeable est apparue mais souffrait d'un problème d'usinage du bloc.
un P3 a suivi, corrigeant les défauts antéreurs mais qui ne fut produit qu'une petites quantités.
La version P4 est le modèle le plus abouti, incluant un bloc lvl5 à circlips.
Depuis, l'Automag a évolué avec un bloc en lvl 6  et 7
L'Anglais John Sosta améliora le bloc en lui dotant d'une modification Promag destinée à mieux gérer le flux de co² constant et à obtenir une cadence régulière à 2fps d'écart.
Des versions concurrentes au Promag apparurent, du coté de Smart Parts avec la Black Box ou de petits artisans perçant 6 trous dans le bloc du fin fond de leurs garages.
Une amélioration Level 10 a vu le jour, avec une culasse foamie améliorée, un jeu d'inserts de power tube calibré et deux ressorts de culasse, permettant de baisser la pression de service, à 720 psi, et l'utilisation de billes fragiles.
Spécifications:
- Lanceur semi-automatique, blowback.
- Canon de 8 ou 10" en une pièce, format baïonette Airgun Designs, crown point (Frein de bouche).  
- Powerfeed ou feeder décalé (Classic).  
- Bloc interne A.I.R Level 5/6/7.
- Poignée en alu, simple détente.
- Asa vers l'arrière.
- Plaquettes de poignées ergonomique ambidextre.
Upgrades:
- Canons: Airgun Designs / Smart Parts, J&J / Barrels of America / Perfect Bore / Taso / Rekka / Dye / Dac / On Target Products / AKA, Armson..
- Culasses: Airgun Designs / Taso / Pro Team Products, Ans Gear, Venom / CFN Powergames / Colors Products.
- Poignée: AirGun Designs (Alu / Carbone)  / Benchmark / Taso.
- Puces on/off: AirGun Designs / MPM / CFN Powergames / ProTeam Products.
- Plaquettes de poignée: AirGun Designs / Viewloader / Smart Parts / Lada Sterling.
- Système de culasse Basse Pression: Airgun Designs Level 10
Upgrades:Canons:
DAC: 12", 14", 16"
ARMSON: 8", 10", 12", 14", 16", 18"
SMARTS PARTS: Boss: 12" Progressive: 12", TearDrop: 12" AA 14" 16"
J&J: Laiton: Du 8 au 16"
J&J: Laiton Chromé: du 4" au 16"
AKA: Acier: du 8" au 14"
AGD Crown Point: 8" au 14"
PMI Ceramik séries: 12" au 16"
Barrels Of America: Laiton Chromé: Du 8" au 16"
Dye Ultralite: Du 8" au 16"
Dye Acier: 14" & 16"
Dye Boomstick: DU 10" au 16"
On Target Products: Du 10" à 14"
Upgrades Culasses
ANS / 32° / PRO TEAM PRODUCTS / AGD
Upgrades Ressorts
PROTEAM PRODUCTS
Upgrades Puce on/off
MPM / PROTEAM PRODUCTS / CYBORG
UPGRADE BLOC style Promag:
SMART PARTS (Black Box) / HURRICANE
Utilisation de l'Automag en air comprimé.
La pression de service ne dois pas excéder 800 psi.
L'utilisation de preset à 850 psi peuvent entraîner la casse de certaines pièces internes, notamment la vis de corps arrière et l'usure par surpression du reg seat.
Il est conseillé d'utiliser un régulateur réglable de type Air America Raptor / Apocalypse/armageddon ou Centerflag Hyperflow /Dynaflow.
Manuel 68Automag:
http://www.airgundesignsusa.com/Images/automan.pdf
Coupe valve Level 7:
http://www.airgundesignsusa.com/downloads/valveexplodedview.pdf
---
Permission de ce forum:
Vous
ne pouvez pas
répondre aux sujets dans ce forum