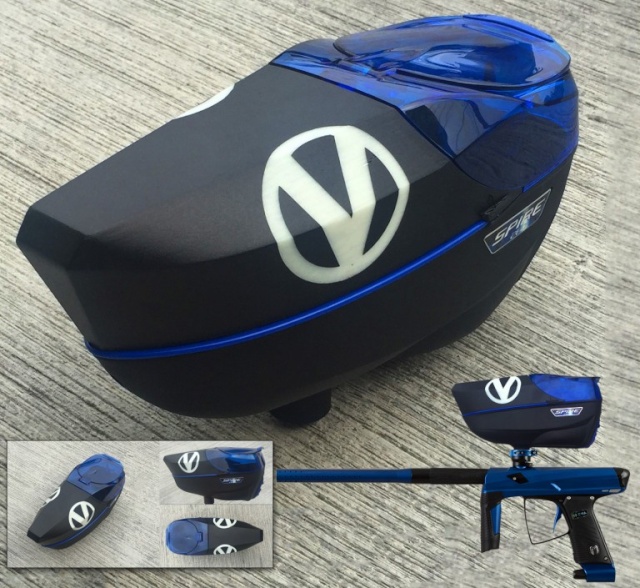 Just in time for the Millennium event next week, Virtue is debuting a prototype even-higher capacity Spire hopper. These loaders will not be available for sale, but instead we are giving away the files to 3-D print your own for free (online printing services may cost approximately $50).
THIS IS NOT AN APRIL FOOLS JOKE, BUT THE '1500ML RULE' MIGHT BE…
In case the timing of this announcement raises an eyebrow; no, this is not an April Fools joke. However, we do worry the 1500ml "restriction" on loaders in the new Millennium and WPBO M500 will lead to silly looking hoppers like this in the long run.
To illustrate the silliness of putting a maximize size cap on the loader, we have created the Spire 1400ml, which fully complies with the Millennium rules, and is quite possibly the silliest looking loader ever. Is it good for the sport of paintball to create a rule-based incentive for all future loaders to be developed at a 1500ml (approx. 280ball) capacity? Do we really want the future of paintball to be whale sized loaders holding nearly a kilo (2lbs) of paint?
THE WHALE SOLUTION
If using a whale sized Spire 1400ml is appealing, players can simply take their existing Spire 260, and make a 3D printed top shell using this file we have released to the public (terms and conditions below).
TERMS AND CONDITIONS OF USE OF THE 3-D PRINTED FILE
This file contains the 3-D printer file necessary to create a top shell for your Spire 260 (or Spire 200 for that matter) and turn it into a Spire 1400ml. There is no warranty or support for using this file. This file is being released for free to the paintball community under the provision that neither the file, nor any derivatives from it are used to make a true injection molded part to be sold commercially.
Download the 3-D Spire 1400ML Whale Capacity by Clicking Here (602KB, zipped STL file).
http://www.virtuepb.com/site/free-3d-printing-files-for-spire-1400ml-top-shell-turn-your-spire-260-into-a-spire-1400ml/
----------------------------
Juste à temps pour l'événement Millénnium série de la semaine prochaine, Virtue a créé un prototype supérieur de grande capacité du Spire.
Ces chargeurs ne seront pas disponibles à la vente, mais nous sommes prêt à donner les fichiers à imprimer 3-D à fabriquer vous même à l'aide d'imprimante 3D. (Le services d'impression en ligne peut coûter environ 50 $).
CECI EST PAS UN poisson d'avril, mais le modèle de 1500ML POURRAIT L'ÊTRE ...
Dans le cas où le calendrier de cette annonce peux porter à sourire, non, ce n'est pas un poisson d'avril.
Cependant, le fait d'imposer une coque en format  1500ml sur les chargeurs pour la règle  du Millénnium séries et WPBO M500 va conduire à des modifications débiles sur nos chargeurs.
Pour illustrer la bêtise de mettre une coque de taille supérieure sur le chargeur, nous avons créé le 1400ml de Spire, qui est pleinement conforme aux règles du Millénnium séries, et est très probablement le chargeur conforme.
Est-il bon pour le sport du paintball pour créer un incitatif à base de règles pour tous les futurs chargeurs à développer en 1500ml (env. 280 billes) de capacité?
Voulons-nous vraiment l'avenir de paintball comme des chargeurs de taille style baleine tenant près d'un kilo (2kg) de peinture?
LA SOLUTION DE BALEINE:
Si vous utilisez un Spire taille 1400ml style baleine attrayant, les joueurs peuvent simplement prendre leur Spire 260 existants, et faire une impression 3D de la coque Baleine en utilisant ce fichier, dont nous vous offrons au public (termes et conditions ci-dessous).
TERMES ET CONDITIONS D'UTILISATION DU FICHIER 3-D IMPRIMÉE
Ce fichier contient le fichier d'imprimante 3-D nécessaire pour créer une coque supérieure pour votre Spire 260 (ou 200 Spire pour cette matière) et le transformer en un format 1400ml de Spire.
Il n'y a aucune garantie ou support pour l'utilisation de ce fichier.
Ce fichier est publié gratuitement à la communauté de paintball en vertu des dispositions que ni le dossier, ni aucun dérivé de cet appareil sont utilisés pour faire une véritable pièce moulée par injection pour être vendue dans le commerce.
Traduction: SOP Staff
Apollon de la raclette




Messages

: 3591


Date d'inscription

: 30/09/2015


Localisation

: Paris




---
Permission de ce forum:
Vous
ne pouvez pas
répondre aux sujets dans ce forum