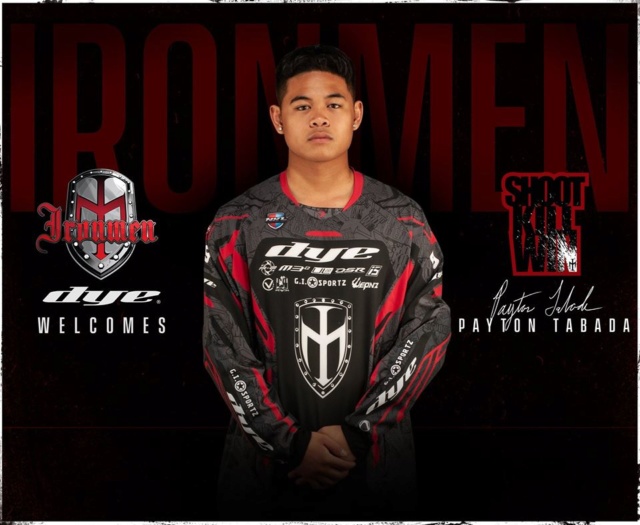 Los Angeles Ironmen adds rookie pro PAYTON TABADA!
Hailing from Oahu, Hawaii, 17-year-old Payton Tabada was a standout at the Ironmen tryouts, and he made it clear that no one would take this opportunity away from him. The Ironmen are confident that his youth, devotion and aggressive style of play will have a direct positive effect in the team's attack in the 2020 season.
Payton Tabada, making his debut as a professional player with the Ironmen, had this to say
"It has always been a dream of mine to play for the Ironmen since I first started playing paintball. I'm ready to get to work and put the time in.
The first time shooting the DYE M3+ was like no other gun I've used before. Simply put, it shot amazing! From the DYE markers to the loaders, goggles and everything in-between, DYE's innovation, design and quality is on a whole other level."
Pleased to be bringing a young and highly-driven player to the 2020 roster, Ironmen Coach, Todd Martinez, added
"I am beyond excited to have Payton Tabada join the Ironmen. At just 17 years old, he has a great natural ability to play the game of paintball. He is smart, aggressive and has the killer instinct required to play in this league. He has a great personality and I know he will make a great teammate. I expect him to represent the Ironmen for many years to come."
Chris Williamson, DYE Precision General Manager, had this to say about the new 2020 addition
"We are excited to see Payton's growth as a player and we couldn't be happier that his rookie season as a pro will be with the Ironmen backed with DYE's entire collection of gear from head to toe."
#DYELivetheLife #DYEM3+ #DYER2 #DYEi5 #paintball

---
Permission de ce forum:
Vous
ne pouvez pas
répondre aux sujets dans ce forum