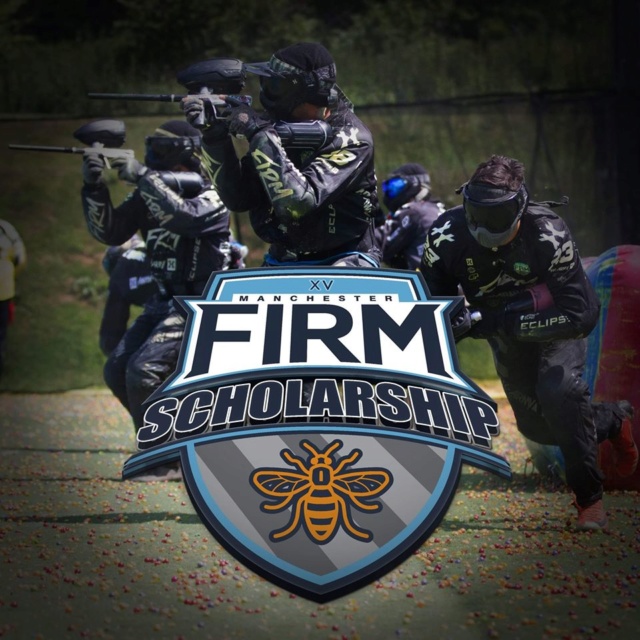 Are you aged 12-18? REALLY wanna play for a long-standing UK team with the opportunity to play Pro in Europe AND represent your country? Then the Firm Scholarship Programme could be what you've always needed.
Read on:
With the 15 year anniversary of The Manchester Firm coming next season, we wanted to give something back to the sport. We racked our brains and came up with the Manchester Firm Scholarship Programme.
Each season we are going to take a player and let them play paintball for the whole season for FREE. No, this isn't going to be just a free ride - the player will have certain goals to aspire to, one of them being to try-out and hopefully be selected for the 2021 Team GB U19's squad.
They will be expected to work hard in their personal life as well, whether it be school, college or at work. Next season we want to run three squads Pro NXL, Elite CPPS and a lower division CPPS squad. We want to take the next generation of players to the top. We want players who want to play for us and we will in turn create a squad who will have the chance to practice with experienced players from higher levels. These seasoned players will be at the CPPS to watch, coach, help and be on hand at every turn while playing and training.
So if you're a player who is 12 to 18 years of age then please register for the chance to come and try out for the very first Manchester Firm Scholarship on the 18th of January at the CPPS starting at 10am cost is £35 with a box of paint included.
Fancy it? Get in touch.
Email: themanchesterfirm@hotmail.com
FB: Manchester Firm
Markie C - Manchester Firm.
#planeteclipse #manchester #cs2 #cs2pro #scholarship #growpaintball #playpaintball
---------------
Êtes-vous âgé(e) de 12 à 18 ans?
VRAIMENT envie de jouer pour une équipe britannique de longue date avec la possibilité de jouer Pro en Europe ET de représenter votre pays?
Le programme de bourses d'études pourrait alors être ce dont vous avez toujours eu besoin.
Lisez ceci:
Avec le 15e anniversaire de l'équipe Firm de Manchester, la saison prochaine, nous voulions redonner quelque chose au sport.
Nous nous sommes creusés la cervelle et avons élaboré le programme de bourses d'études de Manchester.
Chaque saison, nous allons prendre un joueur et le laisser jouer au paintball pendant toute la saison GRATUITEMENT.
Non, ce ne sera pas seulement un tour gratuit - le joueur aura certains objectifs auxquels aspirer, l'un d'eux étant d'essayer et, espérons-le, d'être sélectionné pour l'équipe 2021 Team GB U19.
Ils devront également travailler dur dans leur vie personnelle, que ce soit à l'école, au collège ou au travail.
La saison prochaine, nous voulons diriger trois équipes Pro NXL, Elite CPPS et une division CPPS de division inférieure.
Nous voulons propulser la prochaine génération de joueurs au sommet.
Nous voulons des joueurs qui veulent jouer pour nous et nous allons à leur tour créer une équipe qui aura la chance de pratiquer avec des joueurs expérimentés de niveaux supérieurs.
Ces joueurs chevronnés seront en CPPS pour regarder, coacher, aider et être à portée de main à chaque tour pendant le jeu et l'entraînement.
Donc, si vous êtes un joueur âgé de 12 à 18 ans, veuillez vous inscrire pour avoir la chance de venir essayer la toute première bourse ferme de Manchester le 18 janvier au CPPS à partir de 10h, le coût est de 35 £ avec un boîte de peinture incluse.
Cela vous tente? Entrer en contact.
Courriel: themanchesterfirm@hotmail.com
FB: Manchester Firm
Markie C - Firm Manchester.
#planeteclipse #manchester # cs2 # cs2pro #scholarship #growpaintball #playpaintball
---
Permission de ce forum:
Vous
ne pouvez pas
répondre aux sujets dans ce forum