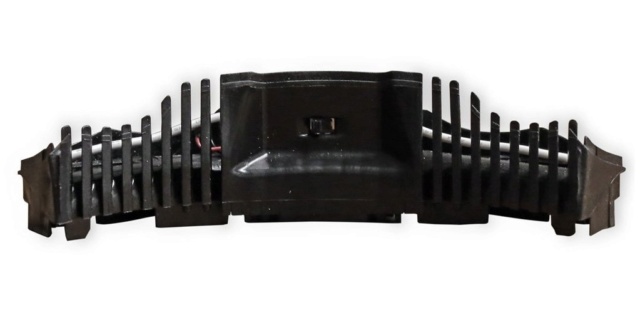 Stealth Visor Fan technology for your VIO
Take fog fighting to a new level by keeping rain, moisture, and condensation out of your goggle. Perfect for players who wear glasses or for circulating air inside your lens. The anti-fog dual pane VIO lens is supercharged when you add the Stealth Visor Fan so you never have to worry about your glasses or your lens fogging. Weighs a mere 1.6oz with two AAA batteries installed.
Ultra Quiet Operation
The Stealth Visor Fan is so quiet, you'll never hear it running during the game. With a brushless motor, the Stealth is 5X quieter than a whisper, which not only allows for ultra quiet performance, but also increases reliability and battery life.
Battery Saving Auto Shut Off Fan
To save battery life, the fan automatically shuts down if you don't move for an extended time, then turns back on once you start moving again.
-----------------------
Technologie Stealth Visor Fan pour votre VIO.
Ramenez le brouillard à un autre niveau en maintenant la pluie, l'humidité et la condensation hors de vos lunettes.
Parfait pour les joueurs qui portent des lunettes ou pour faire circuler l'air à l'intérieur de votre objectif.
La lentille double vitre anti-buée VIO est suralimentée lorsque vous ajoutez le ventilateur furtif pour visières, de sorte que vous n'ayez jamais à vous soucier de vos lunettes ni de la buée de vos lentilles.
Ne pèse que 1,6 onces avec deux piles AAA installées.
Fonctionnement ultra silencieux
Le Stealth Visor Fan est si silencieux que vous ne l'entendrez jamais courir pendant le match.
Avec un moteur sans balai, le Stealth est cinq fois plus silencieux qu'un murmure, ce qui permet non seulement des performances ultra silencieuses, mais augmente également la fiabilité et la durée de vie de la batterie.
Ventilateur à arrêt automatique pour économiser la batterie.
Pour économiser la batterie, le ventilateur s'arrête automatiquement si vous ne bougez pas pendant une période prolongée, puis se rallume une fois que vous avez recommencé à bouger.
Traduction: SOP Staff
---
Permission de ce forum:
Vous
ne pouvez pas
répondre aux sujets dans ce forum