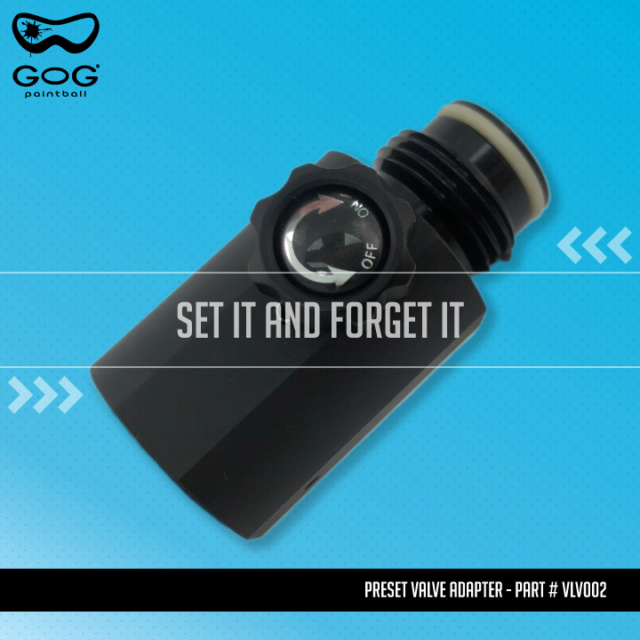 Set it and Forget it with the GOG Preset Valve Adapter
This valve can screw onto any standard bottle and allows you to control the flow of air into you your marker. This can also act as an extender for players that want a longer set up, but do not want to use a drop-back rail. WARNING! Marker may still hold one shot in the regulator even after turning off.
Head over to www.GOGpaintball.com to pick up your GOG Preset Valve Adapter today!
#gogpaintball #eNMEyAdvantage #mechanicalpaintball #paintball
------------------
Réglez-le et oubliez-le avec l'adaptateur de valve pour régulateur préréglé GOG
Cette valve peut se visser sur n'importe quelle bouteille standard et vous permet de contrôler le flux d'air dans votre marqueur.
Cela peut également servir de prolongateur pour les joueurs qui souhaitent une configuration plus longue, mais ne veulent pas utiliser de rail de recul.
ATTENTION! Le marqueur peut toujours tenir un coup dans le régulateur même après l'avoir éteint.
Rendez-vous sur www.GOGpaintball.com pour récupérer votre adaptateur de vanne préréglé GOG dès aujourd'hui!
#gogpaintball #eNMEyAdvantage #mechanicalpaintball #paintball
Voir la traduction
---
Permission de ce forum:
Vous
ne pouvez pas
répondre aux sujets dans ce forum