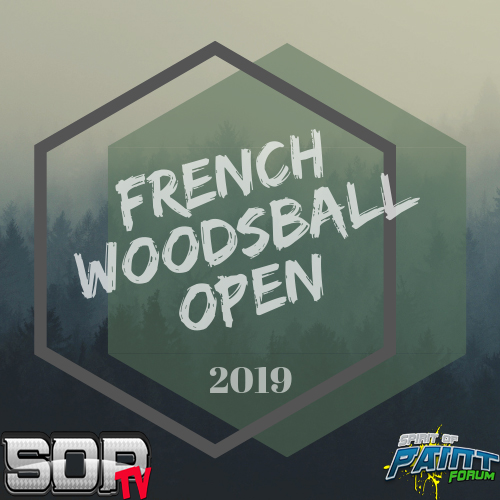 French Woodball Open 1er
Lieu: Camp / Parc de Pomponne (77).
Format: 5 joueurs, drapeau central.
Deux terrains boisés.
Scores:
Points pour la première prise de drapeau.
Points par joueur éliminé.
Points par joueur non éliminé.
Points pour le drapeau en transit.
Points pour le drapeau raccroché en base adverse.
10 équipes.
- Predator Zulu (Uk)
- Predator Masaï (Uk)
- Camp Carnage Paris (France)
- Alien Paris (France)
- Shadoclowns (France)
- Asho Shatir (France)
- Closed Bolt (France)
- French Fight Club (France)
- Enemy (France)
- Scalp (France)
Dans le roster des équipes présentes:
- Carnage avait son cinq majeur renforcé par un Stambeck.
- Alien, même roster qu'en ligue régionale.
- ShadoClowns, avec 3 Shadocks & 3 Billes de Clowns.
- Asho Shatir & Closed Bolt, équipe locale débutante.
- French Fight Club, mix de la team Octopuss avec deux visions et un Brousse Brothers.
- Enemy, vieux routards rouillés des années 2000 dans leur roster d'origine.
- Scalp, avec des vieux en pompe et un u16 en semi.
Météo: Mâtinée très fraîche, de l'ordre  de -1°, température remontant vers +10° dans l'après midi,
ce qui a occasionné quelques problèmes techniques sur les lanceurs.
Un Terrain assez grand, parsemé d'obstacles tubulaires et de palettes avec un château tubulaire au centre sur lequel était posé le drapeau.
L'autre terrain, un peu plus petit avec des palettes, tas de branches et troncs débités, nettement plus dans le style forêt vierge.
Le staff avait prévu un petit déjeuné pour les participants avec café, croissants, pommes et bananes.
Un food truck, La cuisine dans la rue, présent à partir de midi pour les ventres creux.
Arbitrage assuré principalement par des joueurs et arbitres eurorefs, Rnppc, Toxic.
Certaines parties ont étés rapides,surtout engagés par des équipes pros d'un coté et débutantes, principalement axés sur la défense.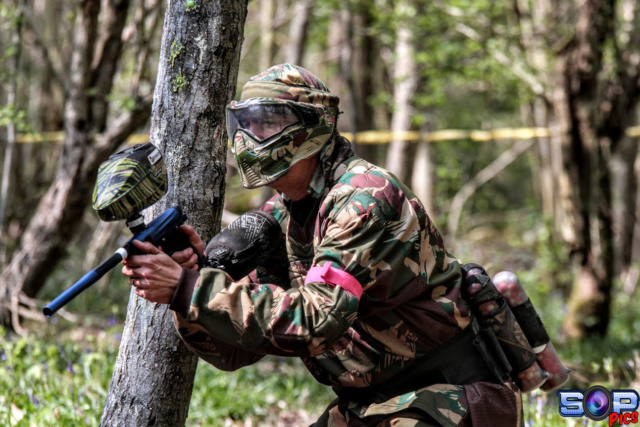 - Predator Zulu gagne 7 matchs, accaparant principalement le château & le drapeau central en première saisie, excellente communication entre les joueurs.
- Predator Masaï gagne 2 matchs tentant également la prise de drapeau mais, petit problème de cohésion sur certains matchs qui leur coûtent des points.
- Camp Carnage gagne 5 matchs avec une mâtinée décevante sur les deux matchs perdus, rattrapé par la suite avec le renfort de Captain en binôme avec Creat.
- Scalp, peu habitué des terrains boisés, gagne 4 matchs dont un bien accroché contre Enemy.
- Enemy, composé de vieux joueurs du roster d'époque, Gagne 3 matchs dont un où le porteur du drapeau raccroche à cloche pied, avec une cheville en vrac et un match nul contre Predator masaï où Captain Jérôme gagne son duel mais est éliminé en simultané avec le dernier Predator.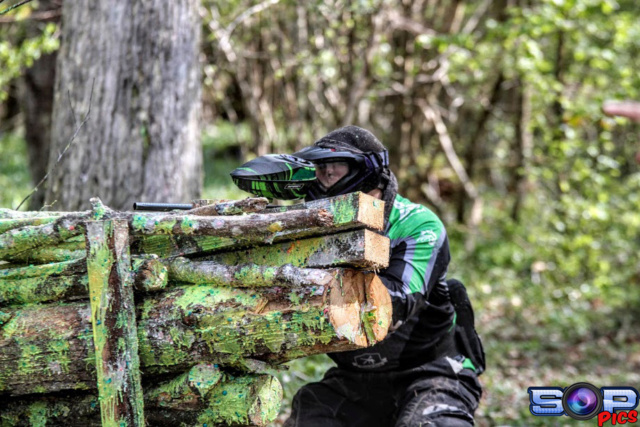 - Alien gagne 4 matchs dont un match d'anthologie contre Predator Masaï qui se termine en victoire aux points avec un drapeau en transit.
- French Fight Club gagne 5 matchs, ratant de quelques points le podium.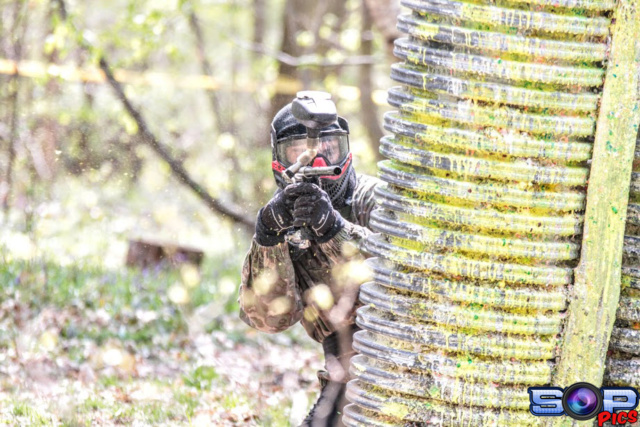 - ShadowClowns gagne un match, surtout dù au fait que l'équipe n'a plus jouée depuis l'an 2000 et sans entrainement.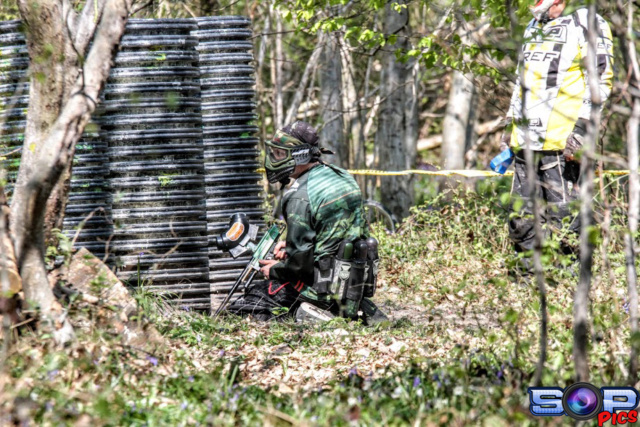 - Closed Bolt gagne un match aux points,  tentant surtout la défense face aux grosses pointures mais souffrant d'un mauvais placement et d'une vague communication.
- Asho Satir, équipe locale, gagne 1 match, mais souffre d'un manque de cohésion et surtout de communication.
Entre midi et 14 heures, une série de matchs en duel a été organisé en fun avec le prêt de deux lanceurs Planet Eclipse E-Mek MG 100 avec un chargeur de 20 coups par joueur.
Marcus Davis, fondateur emblématique de l'équipe Predator testait pour l'occasion, un prototype non finalisé du Planet Eclipse Gtek M170R et l'a fait testé auprès de nombreux joueurs présents.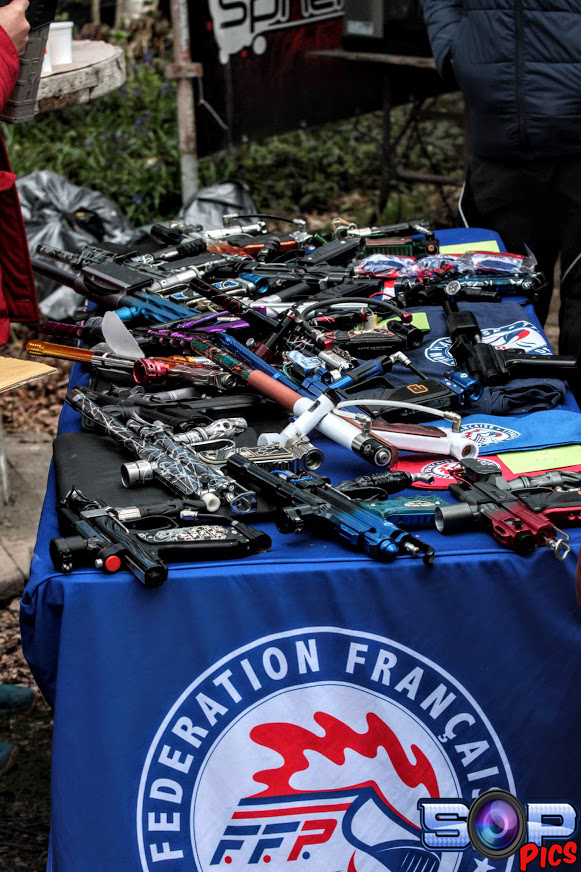 Une table dans la zone joueurs où était disposés de nombreux lanceurs à pompe, semi auto mécaniques et électro poppet valve, sous la dénomination Autococker et compatibles, par la division Loisirs de la FFP.
Une bonne expérience pour tous, un pari réussi pour cette première mouture par Guillaume et Aurelien, montée en 4 semaines avec peu de moyens, avec l'assistance de la Fédération Française de Paintball et de Camp pour le terrain et les commodités.
Une partie des matchs a été filmée en live par Spirit of Paint Tv (SOP Tv) en mâtinée ainsi que d'un album photo sur Spirit of Paint Pics (SOPPics).
Un cadreur vidéo (DJ Sysko) avec sa serviette bleue a pris quelques traits de billes de joueurs myopes, dont on attends la vidéo finalisée.
Le support Cartel Media Britannique accompagnait les Predators avec quelques extraits de matchs, bientôt sur vos écrans.
Erik Château a payé de sa personne, en risquant sa pelure pour prendre les joueurs au plus près avec sa focale fisheye et son fidèle contrepoids 200 f: 2/8.
La touche féminine en qualité de miss Véro a également pris moult photos dont certains sont disponibles sur sa page facebook: Vero Shoot.
Spirit of Paint remercie le Staff de French Woodland Open et la société Camp pour leur accueil chaleureux et sera présent pour la deuxième édition.
---
Permission de ce forum:
Vous
ne pouvez pas
répondre aux sujets dans ce forum