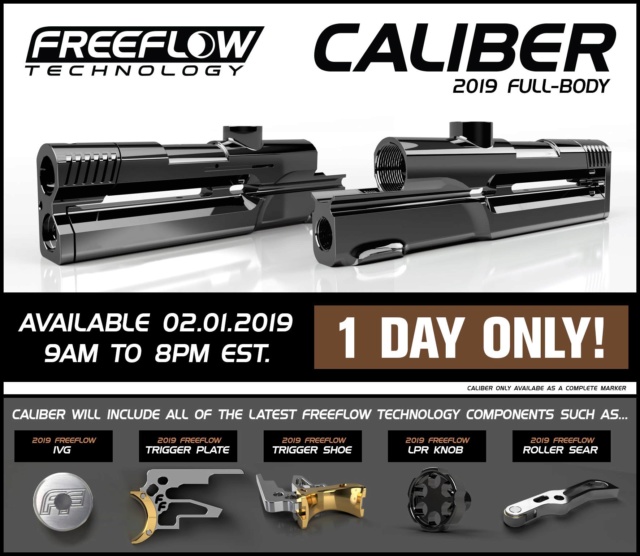 2019 FreeFlow Full-Body Caliber
Inspired by the M1911 Pistol, FreeFlow Technology brings you the newest member of the FreeFlow family. Caliber is the 6th marker to join the FreeFlow family. Preceded by Fulcrum, Millennium, BoxXxer, Lotus, and Rhythm. Caliber promises to bring a fresh-look while keeping that classic, smooth function that you expect from FreeFlow. With the demand for FreeFlow products on the rise, we have been asked to raise the production numbers from our typical 20 per run to allow all of those interested to make a purchase. We want to ensure that your FreeFlow maintains its value and we refuse to "pump these out" like commodities to make a quick buck. That being said, we have decided to compromise. FreeFlow Technology will not limit the number of Full-Body Calibers to just 20. We will however limit the time in which customers can purchase a Full-Body Caliber.
We will make Caliber available on February 1st, 2019 from 9am to 8pm EST. The number of Full-Body Calibers sold in that time-frame will be the total number of Full-Body Calibers made. We will not run any additional Full-Body Calibers....ever. We know that this approach is certainly not the most cost-effective way of doing things, but the end user not "taking a bath" on their purchase means more to us in the long run.
FreeFlow Technology will continue to improve on our current products and release new products and applications but promise to keep the traditional feel and function of our products the same. Thank you to our valued customers for enabling us to continue to bring new items to the market. We promise to continue providing the best possible customer service and look forward to seeing our products in the hands of our valued customers on the field.
Buddy Baur
FreeFlow Technology
---
Permission de ce forum:
Vous
ne pouvez pas
répondre aux sujets dans ce forum