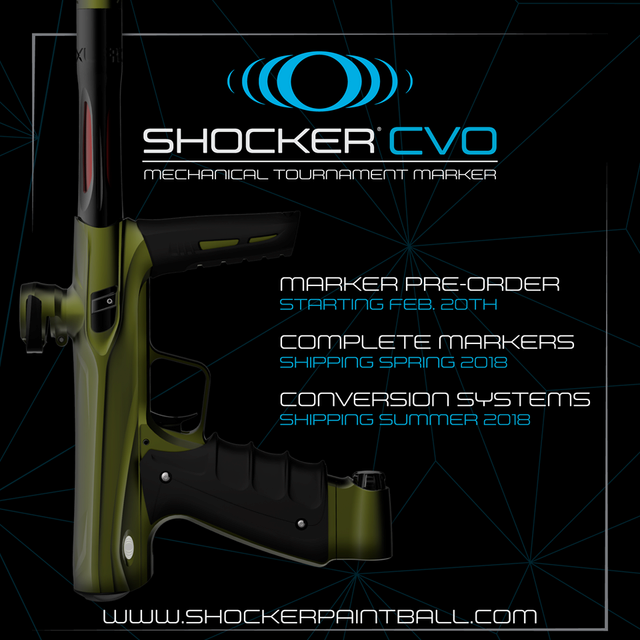 Last weekend wrapped up our final phase of testing on the Shocker CVO platform.
Developed over the past year, with feedback from players of all genres, eras and skill levels the Shocker CVO is designed for the most competitive of mechanical marker users.
Over the next couple weeks we will be releasing more information on the mechanical Shocker CVO and will start taking pre-orders for the markers starting the first day of Paintball Extravaganza!
*Image shown is of a pre-production render*
#Paintball #ShockerPaintball #SPPaintball #MechanicalPaintball #ClassicPB
Source: Shocker Paintball
---------------------------------------
Le week-end dernier, nous avons bouclé notre dernière phase de tests sur la plate-forme Shocker CVO.
Développé au cours de l'année écoulée, avec le retour des joueurs de tous les genres, de toutes les époques et de tous les niveaux, le CVO Shocker est conçu pour les utilisateurs de marqueurs mécaniques les plus compétitifs.
Au cours des prochaines semaines, nous publierons plus d'informations sur le lanceur CVO mécanique Shocker et commencerons à prendre des précommandes pour les marqueurs à partir du premier jour de Paintball Extravaganza!
* L'image montrée est d'un rendu de pré-production *
#Paintball #ShockerPaintball #SPPaintball #MécaniquePaintball #ClassicPB
Traduction: SOP Staff
---
Permission de ce forum:
Vous
ne pouvez pas
répondre aux sujets dans ce forum