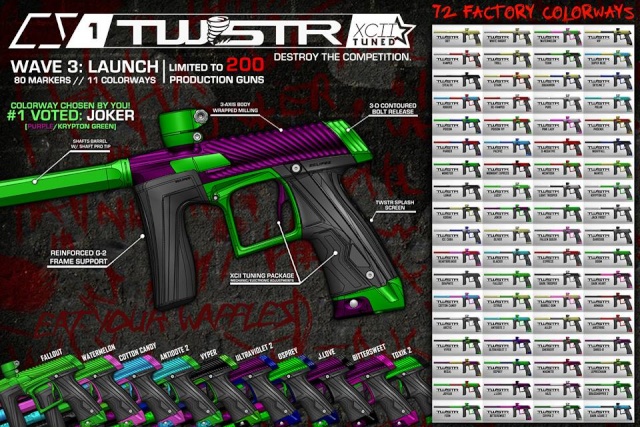 TWSTR CS1 - WAVE:3
The 3rd and final wave of TWSTR CS1 markers are currently in production and your last chance to grab a piece of history is at hand. This wave features some classic colorways as well as some new, bright and wild options that are sure to offer something for everyone out there!
BY POPULAR DEMAND.... (and by your feedback/vote) we have made the "Joker" colorway the face of Wave:3. Featuring a Deep Purple body and Krypton Green accents, this marker is no joke and is sure to have the last laugh against any opponent you may encounter, especially bats.
Also included in this release are Electric Blue and Krypton Green bodies in addition to Punk Pink accents.
With the inclusion of this Wave:3 release the TWSTR CS1 has "eclipsed" the previous TWSTR LV1 record colorway count. The TWSTR CS1 marker features 72 unique standard colorways, more standard options than any other manufacturer in a single release, to ensure there really is something for everyone's taste and needs. Pair that with the XCII tuning package plus Owner's Verification Database and you have the most custom experience you can get in the industry to date.
Remember kids, ALL TWSTR markers are available EXCLUSIVELY through Boston Paintball Retail locations and
http://www.committedpaintball.com/
-------------------------------
TWSTR CS1 - WAVE: 3
La 3ème et dernière vague de lanceurs TWSTR CS1 sont actuellement en production et votre dernière chance d'attraper un exemplaire de l'histoire est à portée de main.
Cette série comporte quelques coloris classiques ainsi que quelques nouvelles, vives et sauvages des options qui ne manqueront pas d'offrir quelque chose pour tout le monde là-bas!
À LA DEMANDE .... (et par vos commentaires / vote) nous avons fait le "Joker" COLORWAY la face de la 3ieme série.
Dotée d'un corps de Deep Purple et accents Krypton verts, ce marqueur est pas une blague et est sûr d'avoir le dernier mot contre tout adversaire que vous pouvez rencontrer, en particulier les chauves-souris.
Sont également inclus dans ce communiqué sont de couleurs bleu électrique et Krypton verts en plus des accents punk rose.
Avec l'inclusion de cette 3ième série: Sortie TWSTR CS1 a "éclipsé" le TWSTR LV1 en nombre record de coloris précédent.
Le marqueur TWSTR CS1 dispose de 72 coloris standards uniques, des options plus classiques que tout autre fabricant en une seule version, pour y assurer qu'il est vraiment quelque chose pour tous les goûts et besoins de chacun.
Rappelez-vous les enfants, tous les marqueurs de TWSTR sont disponibles exclusivement par les boutiques et terrains Boston Paintball et sur le site
http://www.committedpaintball.com/
VF: SoP Staff.
Apollon de la raclette




Messages

: 3591


Date d'inscription

: 30/09/2015


Localisation

: Paris




---
Permission de ce forum:
Vous
ne pouvez pas
répondre aux sujets dans ce forum