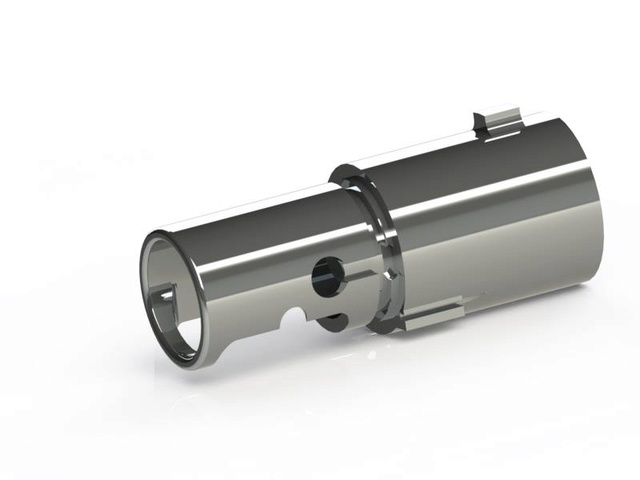 Since the E-14 Fixed Breech was sent out to its unbiased beta testers, the Breech has only continued to impress, the final statement that Echelon 14 Designs LLC stands by (regarding the performance characteristics of the Breech) is:
PROS:
1) 15 fps velocity increase (although this increase has been recorded up to 30 fps).
2) No barrel binding (created by over-torquing set screw) due to rugged construction .
3) The breech is now easier to clean (untighten the set screw and it all comes out).
4) Although minor, accuracy groupings are tighter due to smooth barrel/breech transition.
5) Breaks with the beta testers were almost non-existent (nobody complained at all).
CONS:
1) Breech is 1 gram heavier over existing OEM equipment (21 OEM/22 E-14).
2) Sound signature is slightly louder - this was to be expected (no data available).
These are undergoing final operations this week! First run is 150, so those that are interested, please PM me with the message "WANT ____ (put the amount you wish you purchase)". I will respond to these in the order they come. Sorry guys, I have no other way to resolve this. Pricing will be $115.00 USD shipped - international shipping available, but pricing is not.
--------------------
Puisque le E-14 Fixed Breech a été envoyé à ses bêta-testeurs impartiaux, le Breech a seulement continué à impressionner, la déclaration finale que Echelon 14 Designs LLC représente (en ce qui concerne les caractéristiques de performance du Breech) est:
AVANTAGES:
1) augmentation de 15 fps de vitesse (bien que cette augmentation ait été enregistrée jusqu'à 30 fps).
2) Pas de fixation de barillet (créée par une vis de serrage) due à une construction robuste.
3) La culasse est maintenant plus facile à nettoyer (desserrer la vis de réglage et tout est sorti).
4) Bien que mineur, les groupes de précision sont plus serrés en raison de la transition sans changer de barillet / culasse.
5) Les casses de billes avec les testeurs bêta étaient presque inexistantes (personne ne se plaignait du tout).
LES INCONVÉNIENTS:
1) Le culot est de 1 gramme plus lourd par rapport aux équipements OEM existants (21 OEM / 22 E-14).
2) La signature sonore est légèrement plus forte - ce qui était attendu (pas de données disponibles).
Ce sont des opérations finales cette semaine! La première production est de 150 pièces , donc ceux qui sont intéressés, Contactez moi avec le message "WANT ____ (mettez le montant que vous souhaitez acheter)".
Je vais répondre à ceux-ci dans l'ordre qu'ils viennent.
Désolé, je n'ai aucun autre moyen de résoudre ce problème.
Le prix sera de 115,00 $ USD expédié - livraison internationale disponible, mais les prix ne sont pas inclus.
La pièce remplace le eye pipe d'origine, est en métal et bascule le Dam uniquement en mode Magfeed.
Apollon de la raclette




Messages

: 3593


Date d'inscription

: 30/09/2015


Localisation

: Paris




---
Permission de ce forum:
Vous
ne pouvez pas
répondre aux sujets dans ce forum