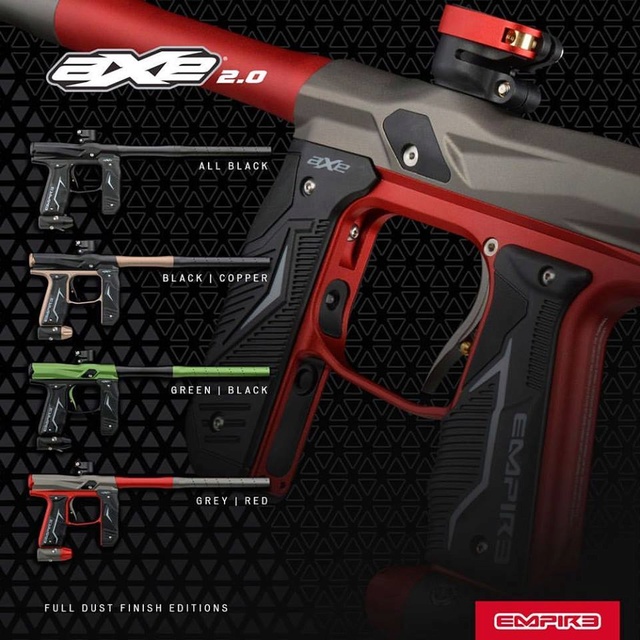 Nouveau modèle de chez Empire, le Axe en version 2.0.
Empire's latest version has now arrived, and the Axe 2.0 is ready for prime time, featuring a proven, reliable pressure controlled poppet engine that removes with the push of a button for cleaning and service, externally serviceable anti-chop breakbeam eyes, a Shockwave board with multiple, adjustable firing modes, a Relay venting regulator with an on/off lever, hose-free air, a wrap-around foregrip that accepts the OLED Redline board upgrade, a two-piece Driver XX barrel and a full ten percent weight savings over the previous generation model.
Improved in almost every way, the Empire Axe 2.0 offers impressive performance and updated features at a price that any player can afford!
------------------------
La dernière version de Empire est maintenant arrivée, et l'Axe 2.0 est prêt pour le prime time, avec un moteur éprouvé, fiable et contrôlé par pression en appuyant sur un bouton pour le nettoyage et le service, des yeux à faisceaux, une carte  Shockwave Avec des modes de réglages multiples, un régulateur inline  avec un levier marche / arrêt, un passage du gaz à travers la poignée, une poignée avant enveloppant qui accepte la mise à niveau du tableau OLED Redline, un canon Driver XX de deux pièces et une réduction de poids de 10% Par rapport au modèle de la génération précédente.
Amélioré dans presque tous les cas, l'Empire Axe 2.0 offre des performances impressionnantes et des mises à jour fonctionnelles à un prix que n'importe quel joueur peut se permettre!
Traduction: SOP Staff
Source: Empire
Apollon de la raclette




Messages

: 3711


Date d'inscription

: 30/09/2015


Localisation

: Paris





Sujets similaires
---
Permission de ce forum:
Vous
ne pouvez pas
répondre aux sujets dans ce forum