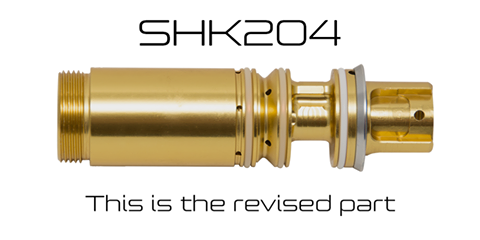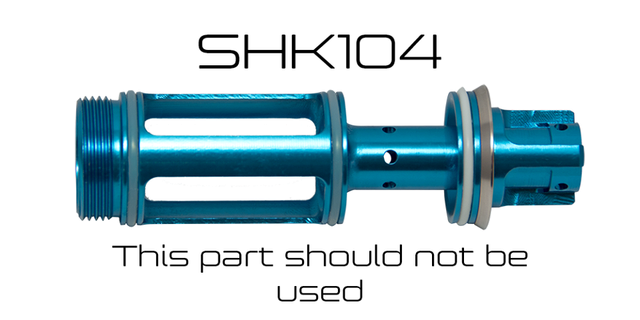 We've have recently discovered that a difficult to detect machining error has occurred in some Shocker RSX Main Chambers "SHK104", creating the potential for failure during use. A mis-machined part during use can become broken and eject out the back of the gun with force.
We have received reports of main chamber failures. In all cases the chamber assembly was ejected out the rear of the gun with force.
In the interest of safety our parts manufacturer, GOG Paintball USA has coordinated with the U.S. Consumer Product Safety Commission to provide a voluntary recall.
You can read the official recall press release here
http://recall.shockerpaintball.com
We are providing upgrade kits to replace the Main Chambers (part SHK104) of all Shocker RSX paintball markers with a Gold color High-Flow Chamber (part SHK204).
If you own a Shocker RSX and it has a blue Main Chamber inside please visit
http://Recall.ShockerPaintball.com
and fill out the online form or take your Shocker RSX to your local Shocker Paintball dealer or the Shocker Paintball techs at a paintball event trade show to get your free High-Flow Chamber.
Now here's the hard part…. To be on the safe side, don't use your Shocker RSX until you've replaced it. Sign up for the recall replacement now, and Shocker Paintball can get your new High-Flow Chamber to you ASAP.
------------------------------------
Nous avons découvert récemment une erreur d'usinage produite dans certaines chambres principales  "SHK104" du Shocker RSX, créant le risque d'échec lors de l'utilisation. Une partie mal usinée de la chambre lors de l'utilisation du lanceur, pourrait casser et s'éjecter à l'arrière du lanceur.
Nous avons reçu des rapports de principales défaillances de la chambre.
Dans tous les cas, l'assemblage de la chambre a été éjectée par l'arrière du lanceur avec force.
Dans l'intérêt de la sécurité de notre fabricant de pièces, GOG Paintball USA a coordonné avec la Commission américaine de sécurité des produits de consommation pour fournir un rappel volontaire des chambres défectueuses.
Vous pouvez lire le rappel communiqué de presse officiel ici
http://recall.shockerpaintball.com
<- En Anglais.
Nous fournissons des kits de mise à niveau pour remplacer les Chambres principales (partie SHK104) pour tous les marqueurs de paintball Shocker RSX avec une couleur dorée concernant la Chambre de haut-débit  (partie SHK204).
Si vous possédez un Shocker RSX disposant d'une chambre principale bleue à l'intérieur Allez sur le site internet
http://Recall.ShockerPaintball.com
et remplissez le formulaire en ligne ou amenez votre Shocker RSX à votre revendeur Shocker Paintball local ou des techniciens Shocker Paintball lors d'un tournoi disposant d'un centre technique pour obtenir votre Chambre de haut-débit gratuite.
Maintenant, voici la partie difficile .... Pour ne pas avoir de problèmes, ne pas utiliser votre Shocker RSX jusqu'à ce que la Chambre de haut débit soit remplacée.
Inscrivez-vous pour le remplacement de la pièce maintenant, et Shocker Paintball pourra obtenir votre nouvelle Chambre de haut débit pour vous dans les meilleurs délais.
Traduction: Sop Staff.
Apollon de la raclette




Messages

: 3711


Date d'inscription

: 30/09/2015


Localisation

: Paris





Sujets similaires
---
Permission de ce forum:
Vous
ne pouvez pas
répondre aux sujets dans ce forum